Since my work involves many detailed and precise cuts, I want scissors that can move like they are an extension of my own hand. I have tried scissors from many different makers, and Kikui Scissors are the best I've seen. The actual cut and quality of the scissors are perfect, but I've also received exemplary service for repairs. Their craftspeople are professionals, through and through.
No matter where you work, if you consider yourself a professional stylist, you should be particular about your tools. Personally, I take great care in maintaining my scissors on a daily basis to keep them in top condition. When they reach a point where I can no longer maintain them to a satisfactory level, I immediately send them to Kikui Scissors for repair. And each time, they are returned just as sharp as I had hoped for.
I learned cutting basics in London, and now work hard on a style that fuses the techniques found in London and Tokyo. To create styles suited to Japanese hair, I need one pair of scissors that can handle the blunt, base-forming cuts on wet hair, as well as the dry hair cuts that create the finished feel. Kikui Scissors' Cobalt series make excellent work of cuts on wet and dry hair, and all hair types. They are an indispensable part of my work, and I care for them as if they were an extension of my own body.
Going forward, too, I am happy to continue using my Kikui Scissors for both salon and creative work.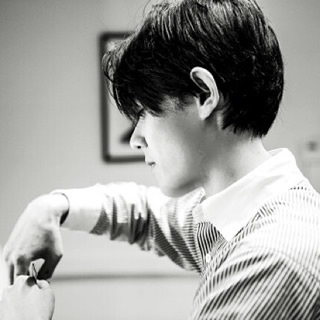 Nobu Eto / Creative Director, Safari Co., Ltd.
Nobu started his career as a hairstylist in Japan in 1998.
Over the next 6 years, he built a reputation as a hairdresser who maintained the highest standards in his work. After graduating from the world renowned Vidal Sassoon Academy, Nobu started working along-side the Vidal Sassoon creative director for special events and shows. Now, Nobu's hairdressing, combines the editorial world and precision cutting to create the latest salon looks
website
Favorite Models