Kikui scissors are the best. I choose them because they are made by hand to order, custom, for every customer. The attention to detail is unmatched, and the precision they cut parallels the heart that was put into their birth. I will never be without my golden kikui scissors. They are magic.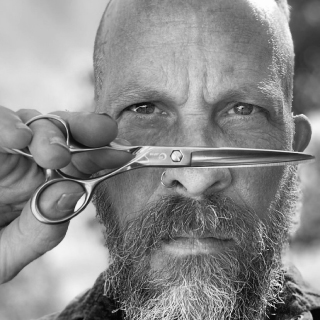 Jason Grady Keller / Owner/stylist, Evolve gallery, U.S.
I began doing hair at 18 years old, in Louisiana. My uncle was a famous hairstylist, and I knew as a young boy I would become a hairstylist. Being in a creative atmosphere is where I belonged. It has now been 30 years, and I love it the same as the first day. I was an educator and stylist for most of my career. As time went on I spent time working in Los Angeles and New York, as well as at home. I just wanted to be part of the two biggest cities in fashion. This propelled me into working on celebrity's and rockstars…..although someone who may be homeless I give as much, or more attention. This is not only an art, a craft, but it is also a way to touch people's spirit and lift their hearts. What an honor and privilege being a hairstylist has become.
website
Favorite Models